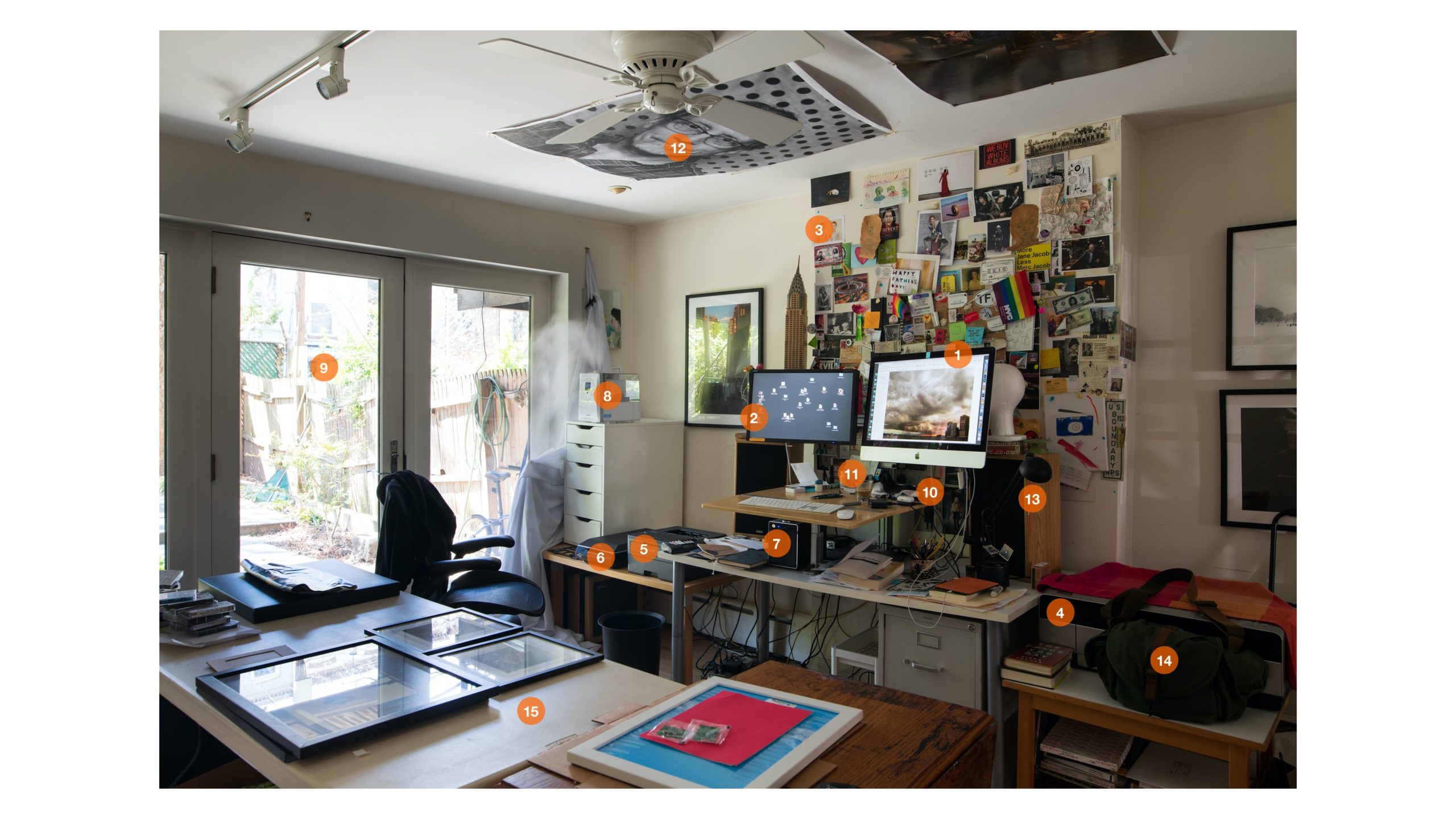 In his Subtraction.com design blog, Khoi Vinh writes, "In the spirt of sharing as a remedy to isolation, I thought I'd share a peek at my home office, the space where I'm spending virtually every hour of my days since we were all forced to start working remotely just a few short weeks ago…"
Inspired by Khoi's post, and in a similar spirt of sharing as a remedy to isolation, I'm going to follow suit. Here's an annotated look at my home studio, where I've been holed up during the day since March 16. I've been keeping busy by scanning negatives and slides and by reorganizing all 275,000 of my digital image files.
I've worked in this home studio on the bottom floor of my Park Slope home for many years now, with my wife's home office on one side and a door to our tiny back yard on the other. For about fifteen years, this is where I've done all my photo post-production. Here's a quick tour.
In 2017 I switched from a 2008 PowerMac to the 27″ iMac 5K Retina, fully tricked out and with 40GB of RAM. Apple builds much higher-powered iMacs, but unless you're doing serious video work, the large screen regular iMacs have plenty of power. This iMac turned out to be way way faster at everything than the aging PowerMac, and it handles Photoshop — my main application — with aplomb.
I've long worked with two monitors, which lets me fill the iMac screen on the right with a large image, keeping my Photoshop tools and palettes on the left screen, an aging 22-inch NEC P221w. I will never move back to a single monitor. My next upgrade might be to a larger and better screen to replace the NEC, and at that point I'll keep the Photoshop palettes on my iMac screen and fill the new monitor with the image I'm working on.
A quick note about my workflow: I import images from my camera's XQD card into Adobe Lightroom (I dearly miss Apple's Aperture software), where I star-rate each one and add keywords. (An image without keywords may as well be deleted, since it will be impossible to find.)
My organization within Lightroom is 100% based on keywording and Lightrooom's Smart Collections, so careful and complete keywording is critical. I try to anticipate every use I might make of an image, so I tag the obvious (names of people, locations, events) but also general categories (street art, parade, car, exhibition) and then larger categories (abstract, geometrical, red, green, light, dark, night).
If I've done a good job, I can easily and quickly create a Smart Collection using boolean selectors to gather all related images from my entire catalog going back to 2004. I can, for example, easily group every photo I took of Miss Colombia at every Mermaid Parade but only those where she's carrying Carino. Or every photo I ever took that showed cobblestones, but not in Soho. With good keywording, I have no need to pay attention to where Lightroom places image files on the hard drive.
When I worked on my Workspace project, I became fascinated with the way people filled their walls with inspiration, and so I began to make my own inspiration wall, where I stuck tickets, found objects, postcards, art exhibition cards, etc. (Looking up, I can see various tickets to Keith Jarrett solo improvisations at Carnegie Hall dating back to 2009.)
I print archival, pigment prints on my Epson Stylus Pro 3880 (now replaced by the SureColor P800) up to 17×25″, using a good, archival paper like Epson's Legacy Platine or Moab Entrada Rag. Anything larger has to be farmed out to print shops like Brooklyn Archival, but because most shops also use Epson printers using the same inks, I can do almost all of the proofing at home.
Family and business black and white printing comes out of our network-shared Brother laser printer.
I've been scanning negatives and slides (going back to my father's shots from the 1960s) in this Epson Perfection V600 scanner, which comes with attachments for loading slides and negatives. I can only scan two negative strips at a time, but the scanner does a fine job with quality. Epson's software is not compatible with the latest Mac OS Catalina, so Epson substituted a license for SilverFast software, which has one of the worst, most opaque interfaces I've ever seen. Once I figured it out, though, it did a fine job of scanning (though I could have used my Mac's built-in scanning software instead).
Multiple backups of more than 3 terabytes of digital images (and tons of other data) clearly calls for a lot of storage. I have eight external hard drives in several external boxes, all daisy-chained via Thunderbolt, including an AKiTiO Quad unit. While Apple's Time Machine takes care of my boot SSD drive, I use Carbon Copy Cloner for the other nightly backups. And for off-site backup, I have Backblaze do a continuous cloud backup of all my drives.
Our Honeywell humidifiers couldn't keep up with the size of my studio, but this Levoit humidifier can. Under the humidifier are small drawers that hold a lot of camera accessories, including filters, remote shutter triggers, lens adapters, filters, cables, and probably some attachments that only fit my 2006-era Nikon D70 which I sold 13 years ago.
When we renovated our bottom floor years ago, this wall had a small door and a tiny window. We had big glass doors installed, to bring in light and a view of our garden. Because the windows are perpendicular to my screens, there's no problem with glare. The white sheet you can see hanging to the right of the door pulls out to serve as either a backdrop for my primitive home studio or (more often) a sun-blocker for the winter days when the sun hits my floor and reflects off the computer screens.
My whole work setup is mounted on a Kangaroo standing desk which sits atop my old Ikea desk. When I first switched to a standing desk in 2013 I thought I'd spend part of my time sitting, but after a couple months I didn't want to sit at all. I stand for hours at a time as I work, which saved my back, but buying a standing mat from WellnessMats saved my feet. Now my Herman Miller Aeron chair waits nearby for the times I need to sit at the work table away from the computer.
Just barely visible in the photo is my early-afternoon cortado. Of course I'm addicted to caffeine, but the Breville espresso machine in our kitchen ensures that it's very tasty caffeine.
The giant portrait of me on the ceiling is by JR, from the time he visited Times Square in 2013.
The speakers on the left and right sides of my desk are the Cambridge Soundworks (now defunct) Model Six, connected to my iMac through a tiny digital amp by Topping Audio.
Safely tucked away in my Domke F3 Super Compact camera bag (which I love because it's canvas and not nylon) is my workhorse Nikon D850 DSLR, which is the most remarkable camera I've ever used. The Domke bag holds the camera with attached Sigma 50mm f/1.4 Art lens as well as a Sigma 24mm f/1.4 Art, which makes up my typical walk-around kit. (The Sigma Art lenses are just plain incredible.)
Finally, anyone working with prints needs a big worktable. This is not only where I lay out prints under color-corrected LED lighting (on the ceiling, visible above the glass doors), but where I pack my Annual books for shipping and cut paper with a Rotatrim Monorail 26 cutter. The table also comes in handy every Thanksgiving when we clear off all my projects and cart it upstairs to seat our guests.

Not shown in the photo is the magnetic wall, lit by color-corrected LED halogen (this was pre-LED) lights, where I hang prints to outgas and to gaze upon for a few days or weeks while I see how well they hold my interest.
Before this virus crisis happened, I would have said that forcing me to stay home for days at a time would give me serious cabin fever. But it's amazing how we adapt when we have no choice. I feel very lucky to have a decent-sized studio to call my own, and some projects to keep me sane.